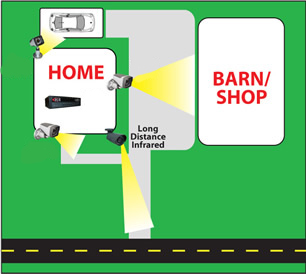 Homestead Security Camera Package
Here is a recent example of a farm that employs our"Homestead" security package to monitor their property.
This family employs the "Homestead" security system to protect their property. They upgraded the Driveway camera to a long distance infrared camera that illuminates the driveway area out to a distance greater than 200'. This helps to provide early warning of intruders and detects them at a greater distance.
The "Homestead" surveillance package is pre-assembled, pre-wired and pre-programmed so that installation is truly Plug and Play, and the digital recorder powers up, starts recording and provide live viewing immediately. If you wish, we can program the security systems to record when motion is detected before it leaves the factory. A Quick Guide is provided that allows you to change any setting yourself from either your home or from any computer in the world in just a few seconds. In fact, the system can be controlled from any computer at any time.
This farm surveillance system can also notify you by email if someone approaches, opens a door or gate, or even if loud sounds are detected (system has audio – must purchase microphone).
Homestead security package