Here is an example of a system we designed in 2008 to protect a fish farm operation in the South-Eastern United States.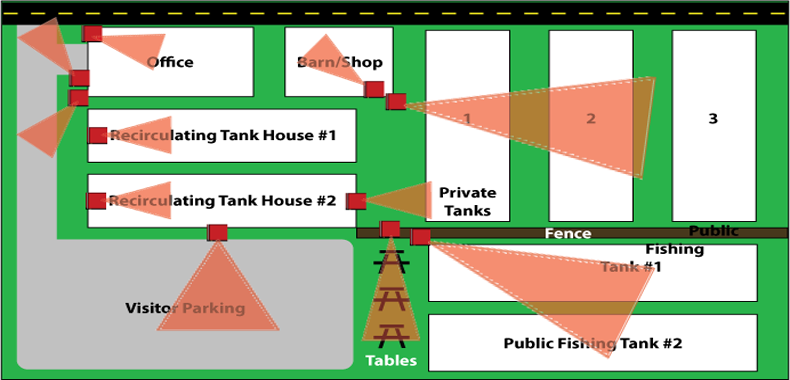 This fish farm comprises approximately 50 acres, and has 5 raceways and 2 greenhouse structures that house recirculating tank systems. Two of the tanks are open to public fishing and attract m ore than 200-300 customers on some weekends.
The owner's had been having break-ins in the past few years, and had lost a lot of tools and equipment, as well as having vandalism to pumps and even bleach poured into the recirculating tanks. It was time to monitor and protect the property better.
Installing a gate was the first step, followed by better lighting as a deterrent.
Next they called us to design a digital surveillance system to monitor and protect their property and livelihood.
We designed a 16 Channel Vertex Digital Security System that is running 11 cameras initially. The owners have plans to add some additional cameras in the future, and even a "Pan-Tilt-Zoom" camera on a pole in between the 2 public raceways so that they can watch some of the children better (some parents just let them run wild it seems).
Tell us your aquaculture layout or situation and we will modify or customize any package as needed. We can also design a system entirely to your needs and package price it. We do not charge for the engineering or design service.
1-866-255-0035