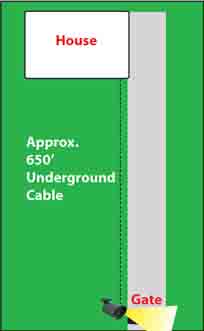 Long Distance Gate Security Camera
This farm and ranch operation chose to bury wire between their home and the gate (approximately 650 feet away). They did not have electricity at the gate, so they used a 24V AC Infrared Camera (our Long Range Super Infrared). Since 12V DC can't go very far under high amperage loads, such as powering and infrared camera, this high power camera lights up the entire entrance area with extremely bright, but invisible light.
If there is power at the gate, we can run CAT 5 cable for the video portion up to a mile or more.