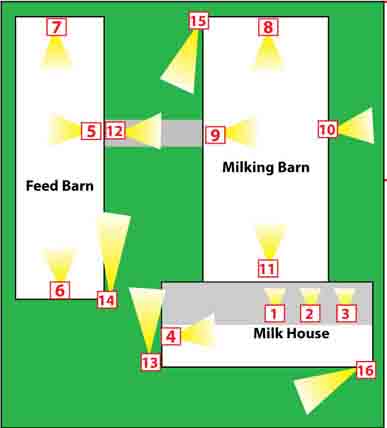 Local Dairy Farm Cameras
This dairy operation has installed a custom designed digital monitoring and protection system with 16 cameras so far. They see the need to add additional cameras in the future, especially when they add on to the operation in a few years.
The security system uses central power supplies in each building to power the cameras. CAT 5 cables carry the video from each location back to the milk house for storage and retrieval.
This system is monitored from the foreman's house (not pictured) and from the owner's home via the internet. In the milk house the cameras provide a general overview, as well as several small format cameras that look at temperature and other gauges for monitoring and documentation. The feed barn and milking barn monitors have cameras that provide general views of each barn and area, and also monitors the flow of cows between barns.